Get a free no obligation quotation
0800 243 759
Roller Shutter Garage Doors
Why choose a roller shutter garage door?
Space Saving
High Security
No Internal Track
Remote Opening
Simple Operation
Strict Safety Standards
Roller shutter garage doors are the perfect space-saving option when a garage has limited room and headspace needs to be conserved for storage. They also offer fantastic security for your garage, operating in a very similar way to the security shutters you might see on a shop at night.
A roller shutter garage door opens by rolling up vertically around itself above the door, which has the major advantage of not requiring any room in front of your garage necessary to open the door. In practical terms, this means you can park a car on your driveway right up to within inches of the garage door and still be able to open and close it.
All our garage doors are extremely weather resistant and certified to the highest European safety standards.
See our other garage doors.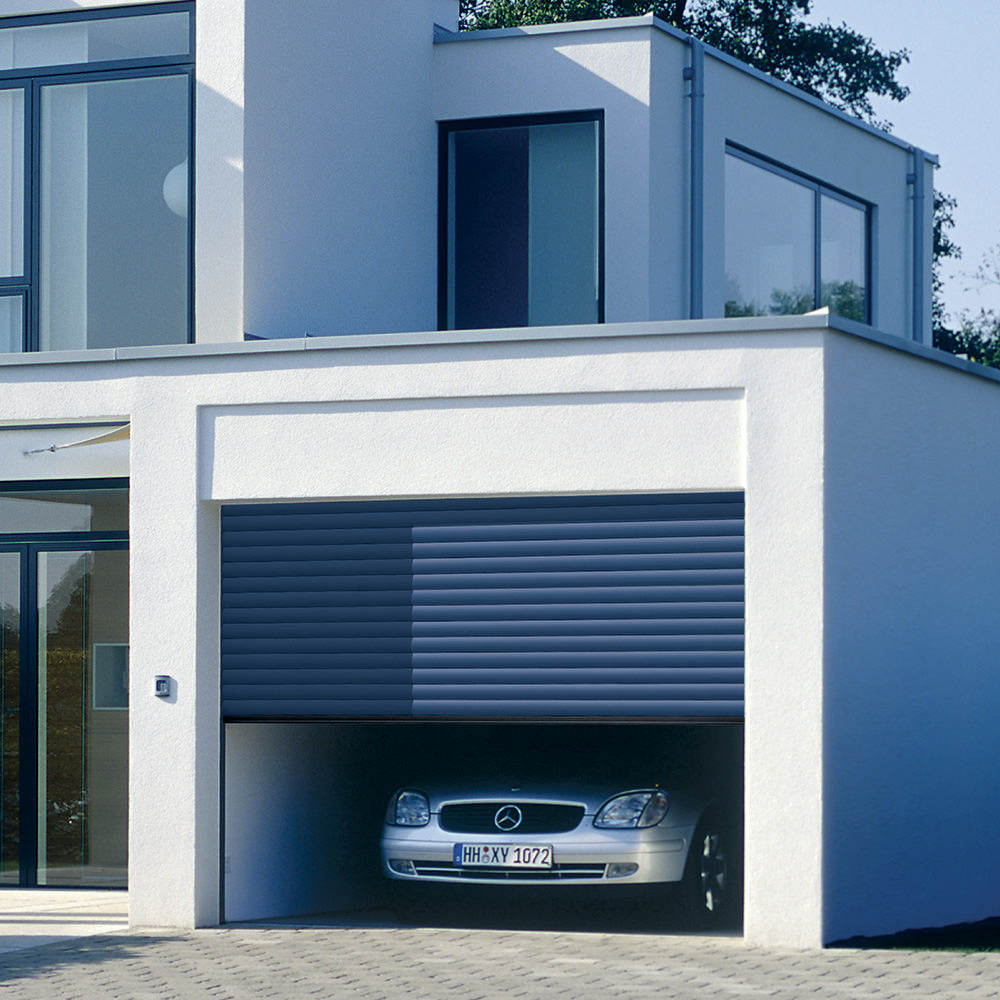 Roller Garage Doors
Roller garage doors are extremely adaptable and versatile and can be manufactured to almost any size and colour. Because of the vertical opening nature of the roller shutter garage door, it can be installed in garages with limited ceiling space or behind garages with unusual architecture such as archways, an extremely high ceiling or when other structures would block the clearance of other garage doors that need to open outwards.
What are garage roller shutters?
A garage roller shutter is a type of garage door consisting of multiple horizontal slats that are hinged together. The door opens vertically upwards and rolls around itself above the door and when it closes it unrolls and slides vertically downwards. Roller shutter garage doors are perfect for garages of all sizes as they are made to measure. Although it is possible to operate them manually, garage roller shutter style doors are most frequently electronically operated for convenience.
The popularity of roller garage doors has grown in the UK due to their neat space-saving design and their ease of integration with an automatic operator.
Coloured Garage Roller Doors
We supply a wide range of colours of roller garage door to fit in with the style of your home. From bare aluminium, neutral whites and creams to brown, black, grey, red, green or blue - our wide range of options will ensure your new garage door fits your aesthetic.
We also offer Decograin surface finishes for a convincing real timber look.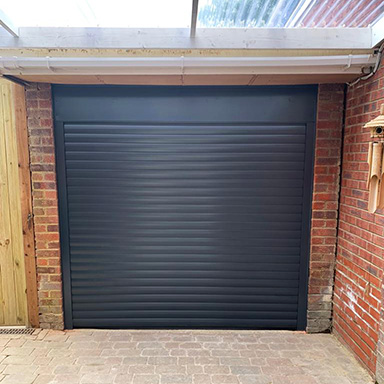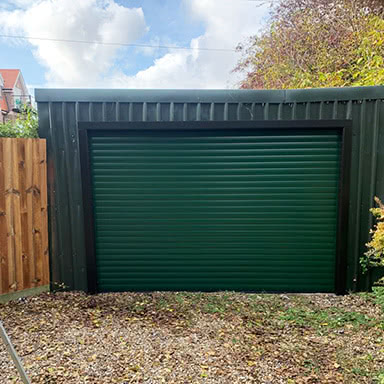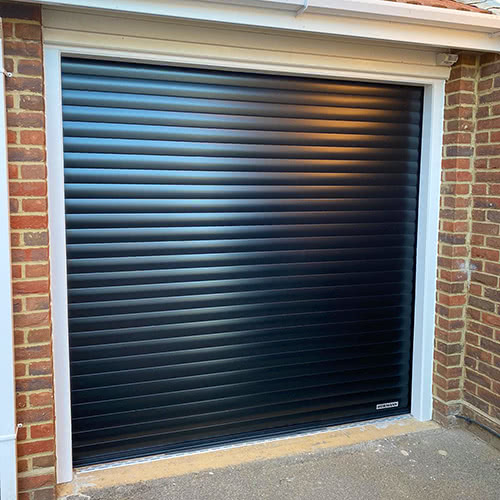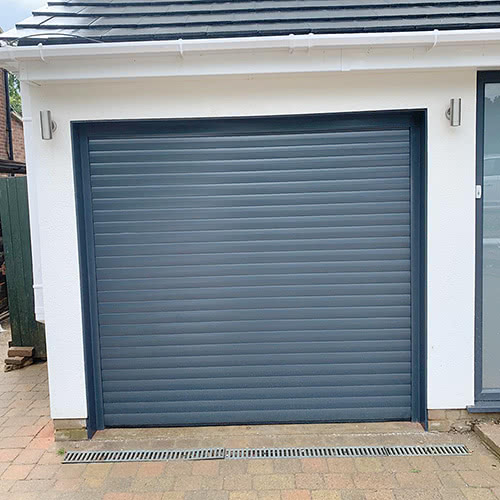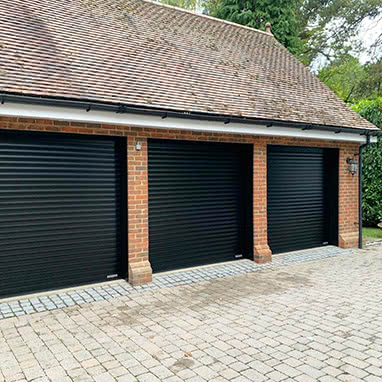 Electric Roller Garage Doors
The motors we supply with our electric powered garage doors have more than ample power to lift the door smoothly and quietly and once installed by our specialist engineers will operate reliably for years to come. The controls and powered operators are proven to perform in all weather conditions over years of usage because we only utilise manufacturers that follow the highest standards of quality control.
Safety and reliability are of paramount importance to us and our electric roller shutters are fitted with numerous sensors and safety features to stop the door in the result of obstruction and allows the door to be easily operated by hand in the case of an emergency. The starting and stopping of our automatic garage doors are designed to be soft and silent to help preserve the mechanism and door.
Electric operated shutters are also the most secure as they can be fitted with additional methods for holding down the curtain when fully closed.
Insulated Roller Doors for Garages
Our insulated versions of roller garage door offer all round weather protection and additional strength using interlocking laths made of a CFC-free high density foam inside a corrosion resistant aluminium shell. This provides improved thermal insulation and strength, making the roller shutter both highly secure whilst reducing heat loss.
The most compact style of garage, a roller shutter door rolls upwards around a barrel above the door, utilising the smallest amount of space inside the garage and requiring virtually no ceiling clearance (around 205mm.) Roller shutter garage doors are sleek and clean and maximise the usable space you have in front of and inside your garage, it will also keep the ceiling of your garage free for use as additional storage space. All the roller shutter garage doors we install are endurance tested under real-world conditions to ensure the highest reliability.
Quick Enquiry Form
Brochure Request
COVID19 Safe Practice
All our garage door installation experts are fully qualified and trained in domestic health and safety. This means you can relax, knowing that the installation of your new garage door will be carried out following strict government and industry guidelines to help prevent the spread of COVID19.
Measures will include:
Wearing facemasks and gloves.
Keeping a safe distance of 2 metres.
The regular use of antibacterial gel.