Get a free no obligation quotation
0800 243 759
Side Hinged Garage Doors
Why choose a side hinged garage door?
Affordable
High Security
Simple Operation
Strict Safety Standards
Highly Customisable
Long Lasting
What is a side hinged garage door?
Side hinged garage doors, or side hung garage doors are a more traditional style of garage door that in the vast majority of cases open outwards. They consist of a set of double garage doors, which are, as the name implies, hinged at the sides in a similar way to a regular door.
As well as looking more traditional side hinged garage doors are great for when entry to a garage is needed for both vehicles and regular pedestrian usage as one door can be quickly opened to allow for people to get in. Another benefit of a set of side hinged garage doors is no overhead space is needed for the doors to retract into. Their simple design makes them extremely easy to maintain as they have minimal moving parts.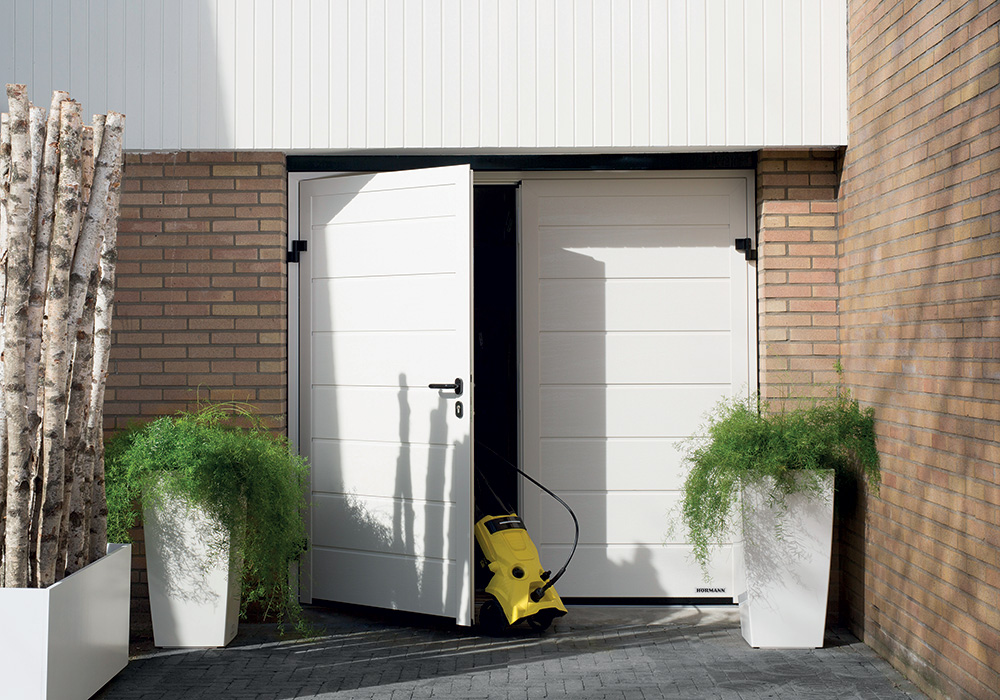 Stable Style Garage Doors
Hinged stable style garage doors are a fantastic alternative to traditional lifting garage doors with their own unique benefits. The simple, timeless design of side-hinged garages ensures years of trouble-free operation with minimal maintenance.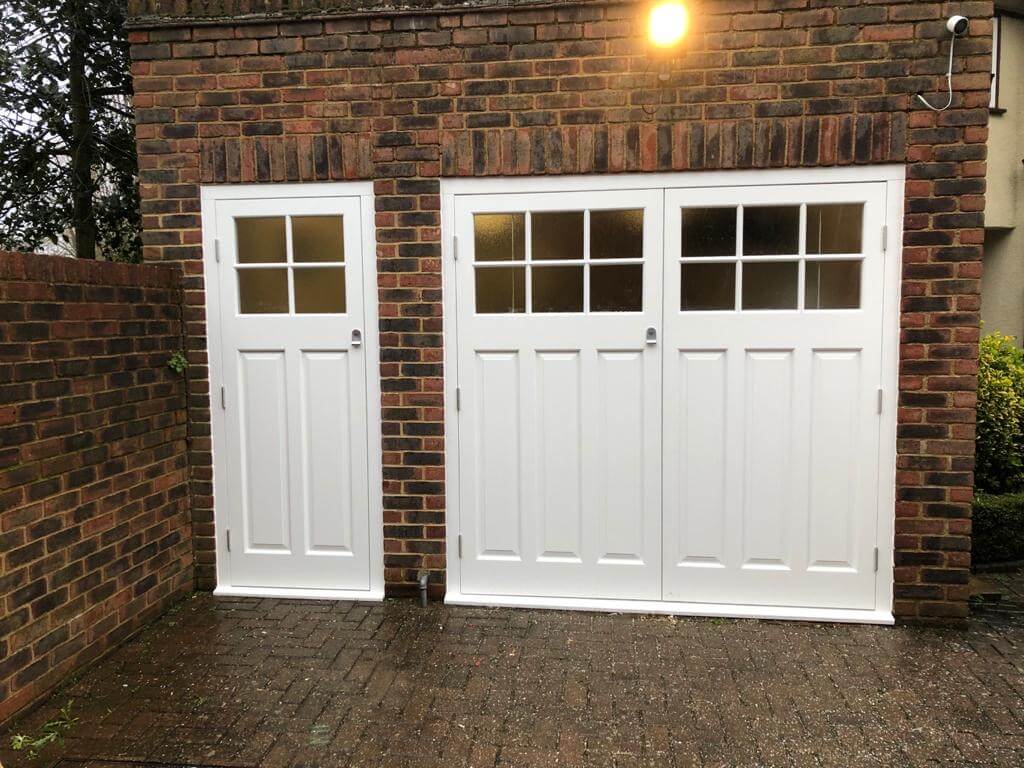 Timber Side Hinged Garage Doors
Timber is probably the material you picture when imagining a side-hinged garage door. It's important to know when purchasing a wooden garage door that there is a huge difference between low-grade wood and more stable varieties that can withstand the weight as a door as well as the constantly changing British weather.
We can offer the classic look of a timber side hinged garage door with the peace of mind that we only utilise long-lasting and durable wood that can withstand the changeable UK climate. Side hung wooden garage doors are extremely attractive and practical if your garage doubles up as a workshop or you use it as an entrance to your home.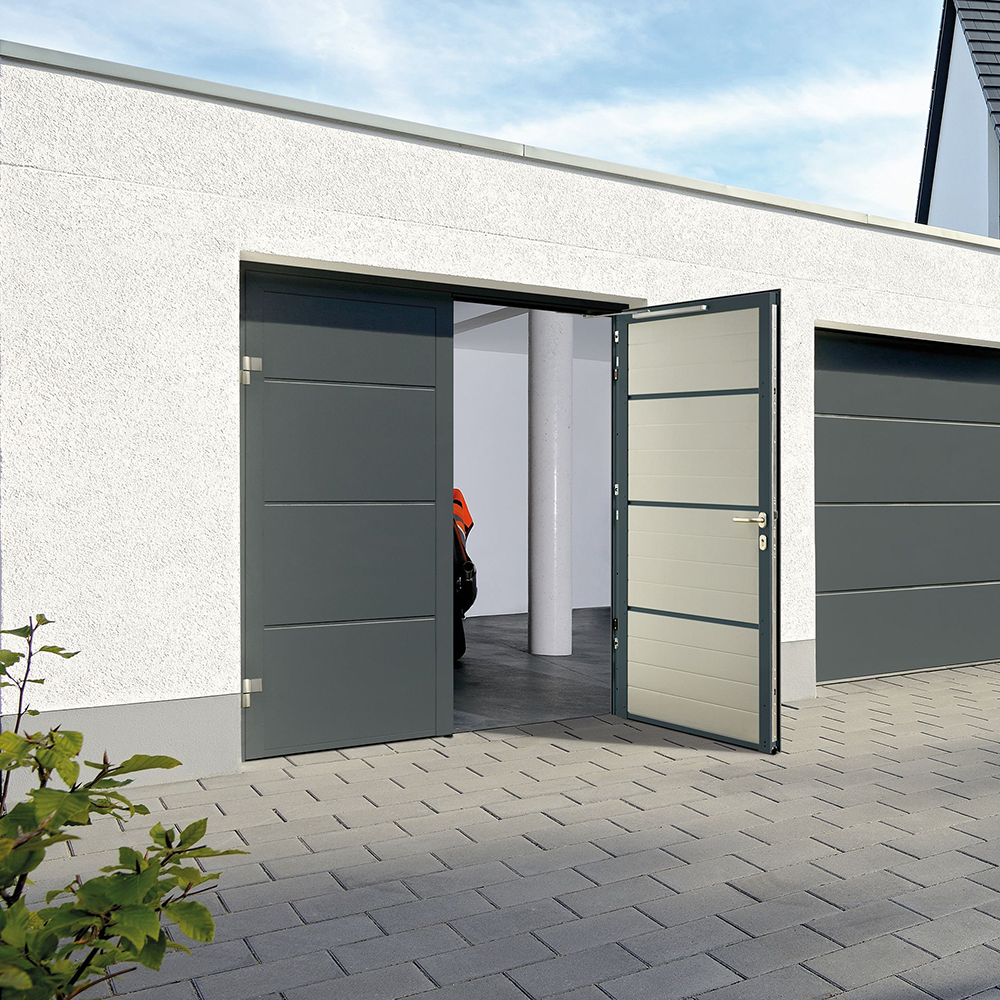 Steel Side-Hinged Garage Doors
Steel side-hinged garage doors are, as well as being exceptionally strong, extremely modern and stylish. We offer a huge selection of steel door styles. Double skinned steel garage doors are the best choice for someone that favours security and can be fitted with additional security upgrades if required.
Insulated
If you wish we can install thermal insulation into your steel garage door to avoid draughts, save energy and prevent heat loss.
Double Leaf Garage Doors
There are numerous benefits to double-leaf garage doors. Side-hinged double garage doors allow easy pedestrian access as one half can be quickly opened and closed again to allow for people to enter. This is perfect if you need to use your garage as an entrance to your home or have a detached garage without a separate door.
Side Hinged Garage Door Styles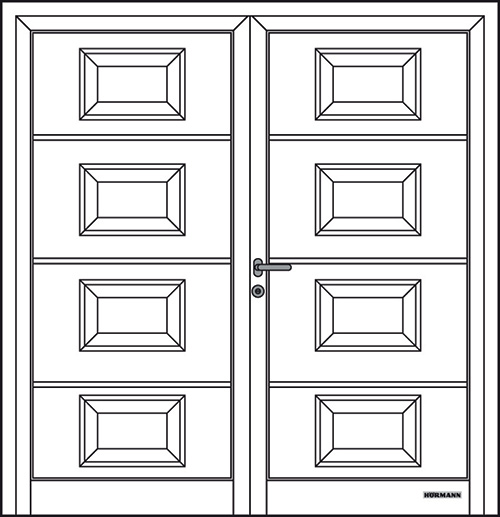 2 Panel NT60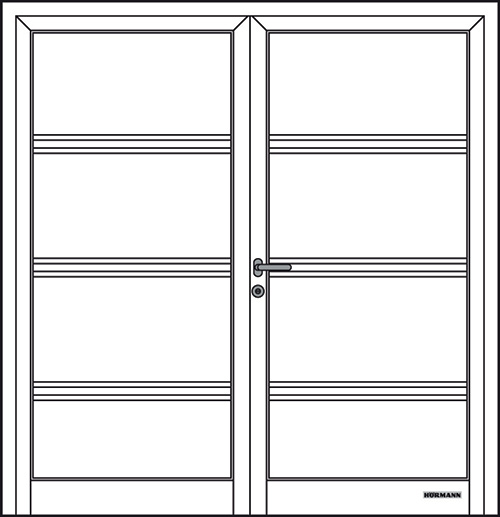 D ribbed NT60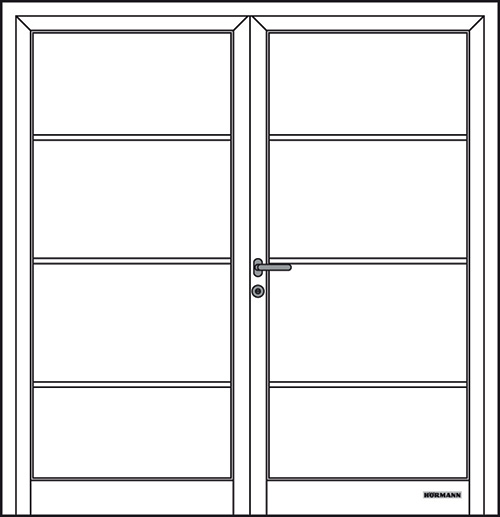 L ribbed NT60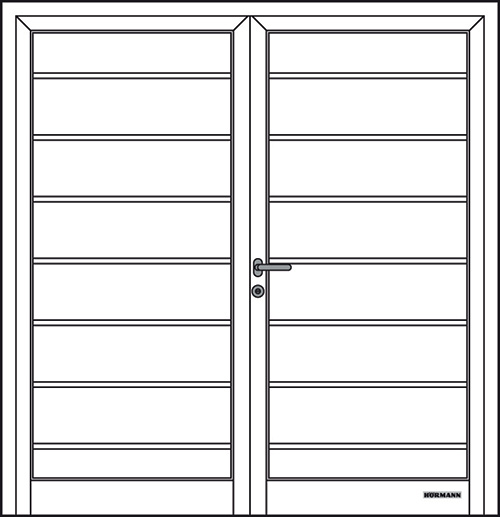 M ribbed NT60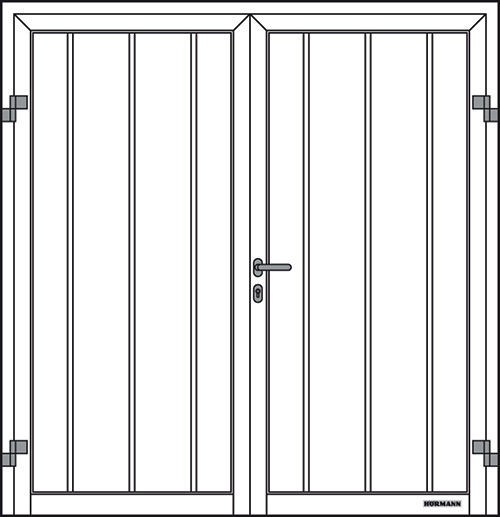 M ribbed NT60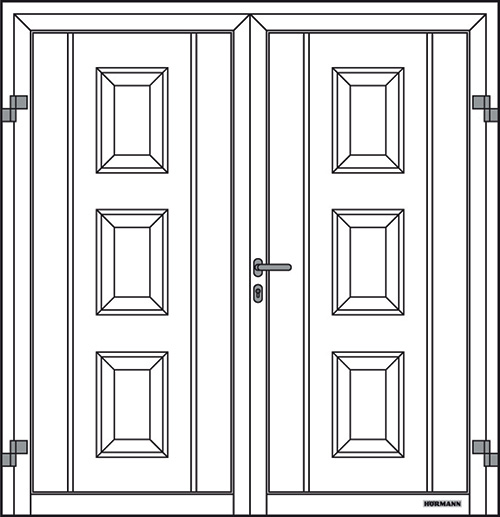 Panel NT60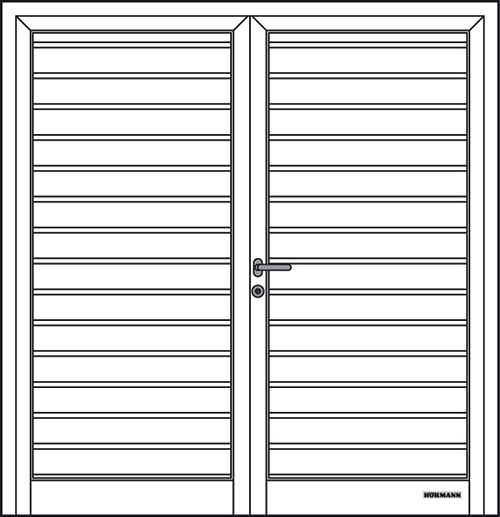 S ribbed NT60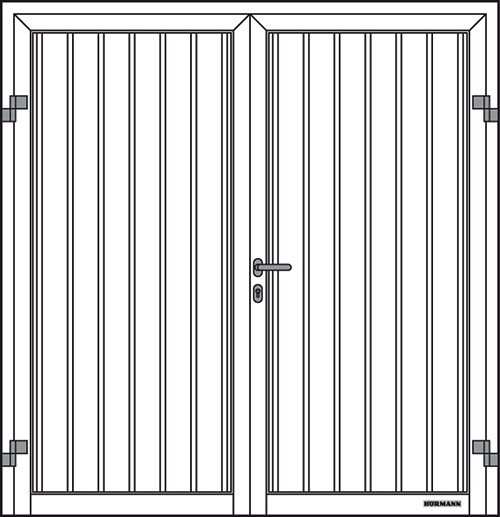 S ribbed NT60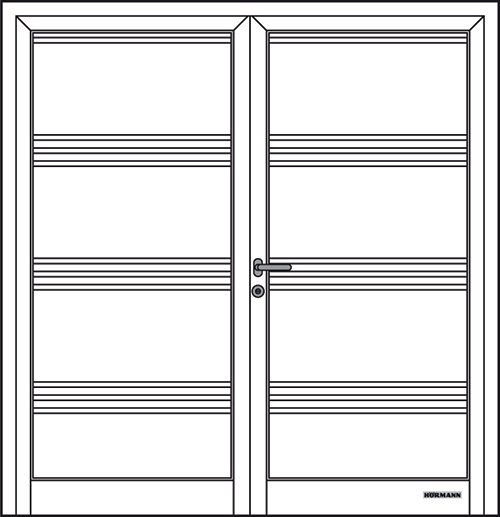 T ribbed NT60
Automatic Side-Hinged Garage Doors
It's a common misconception that side hinged garage doors can not be fitted with an electric operator - but in reality, this is actually extremely easy to accomplish.
We can fit your side-hinged garage door with a boom-style swing-arm electric operator that allows you to open and close your garage doors without ever leaving your vehicle.
If your garage door is the only entry point to your garage remember to include a manual release when purchasing your garage door!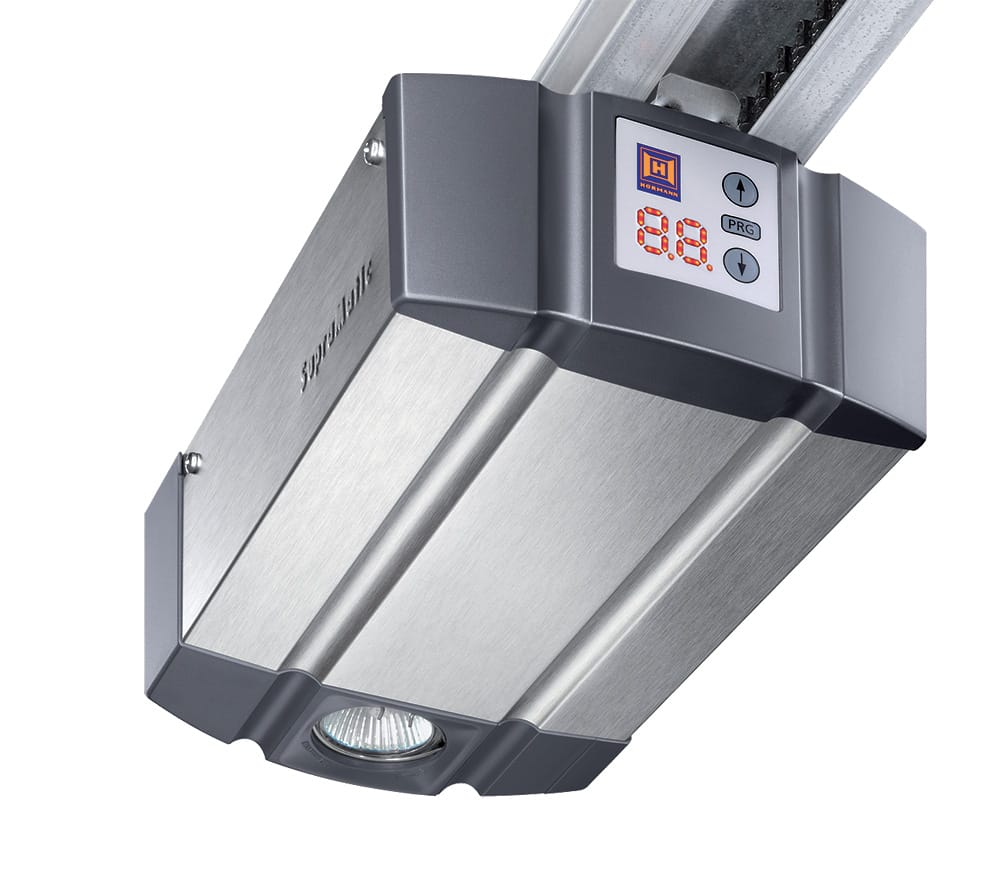 Are side hinged garage doors secure?
Side hung garage doors are very secure by nature as you can open and close them much more easily and quickly than other styles of door. They also offer the benefit of increased privacy as they don't expose your entire garage and belongings to be seen by passersby.
Side hinged garage doors can be some of the most secure available - but only if the main door panels are made of a strong material. If security is your number one priority, side hinged garage doors made from steel are the strongest option, combined with a robust locking mechanism.
Quality hardwood timber and GRP side hung doors can also be secure if they are fitted with a sufficient sub-frame. It is best to consider the security level you would like on your door when it is installed as locks added on afterwards can be more vulnerable and clumsy to use on a daily basis.
Here are some tips to ensure a side hung garage door is the right style for you:
Side hung garage doors are great if you suffer from back problems as they can be opened and closed without any bending over or heavy lifting.
If you've decided to choose a timber garage door, ensure it is made from high-quality timber rather than low-grade softwood. Not all wood is created equally but we only use durable timber in our doors that is fit for the purpose.
Side hinged garage doors most commonly open outwards and so are not suitable for drives that angle upwards out from the garage.
Nearly all side hinged garage doors are made to order nowadays, with very large doors requiring heavy-duty hinges and a stronger sub-frame to support the weight.
Side hinged garage doors suit pedestrian access particularly well because the whole garage does not have to be opened at once. This makes them the perfect option if you plan to use your garage for purposes other than just storing your car, or if you don't plan to store a vehicle in your garage at all.
Quick Enquiry Form
Brochure Request
COVID19 Safe Practice
All our garage door installation experts are fully qualified and trained in domestic health and safety. This means you can relax, knowing that the installation of your new garage door will be carried out following strict government and industry guidelines to help prevent the spread of COVID19.
Measures will include:
Wearing facemasks and gloves.
Keeping a safe distance of 2 metres.
The regular use of antibacterial gel.