Get a free no obligation quotation
0800 243 759
Up and Over Garage Doors
This traditional style of garage door is still by far the most common type within the UK today. The simple, single panel design makes them easy to use and extremely cost-effective.
Up and over garage doors are still extremely secure, easy to operate and available in construction from different materials - including GRP and timber.
We offer a range of cost-effective standard sized garage doors but can also provide quotes for more bespoke projects.
We also offer expert advice, measurement on-site, professional installation and environmentally sound disposal of your old garage door.
Affordable
High Security
Simple Operation
Strict Safety Standards
Highly Customisable
Long Lasting
Single Panel Style Garage Doors
We can offer single panel, up and over garage doors in a huge range of colours, finishes and styles.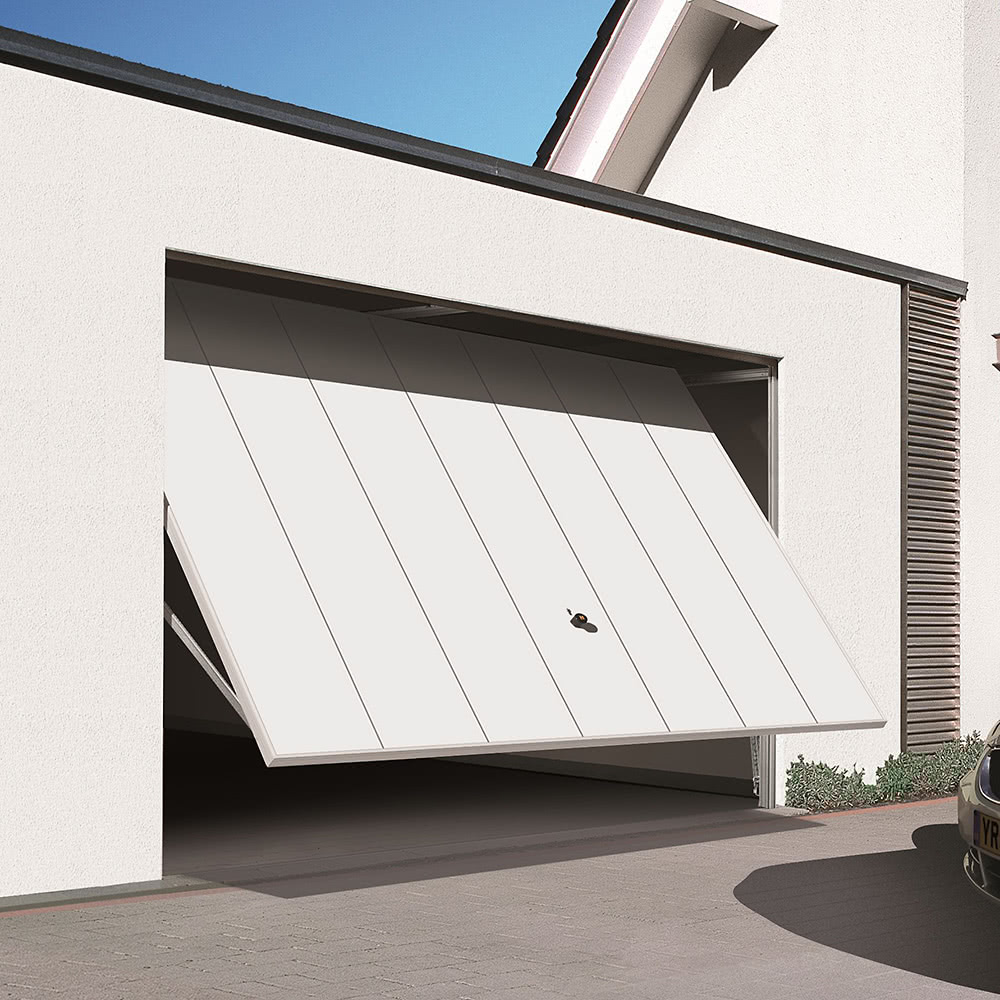 Steel Up-and-Over Garage Doors
Our single panel steel doors are available in both ribbed or panelled designs and come protected against adverse weather conditions and corrosion - withstanding the elements and looking beautiful for years to come.
Our steel doors come in Traffic white (RAL 9016) as standard but we can supply them in a range of colours or decograin surface finishes upon request.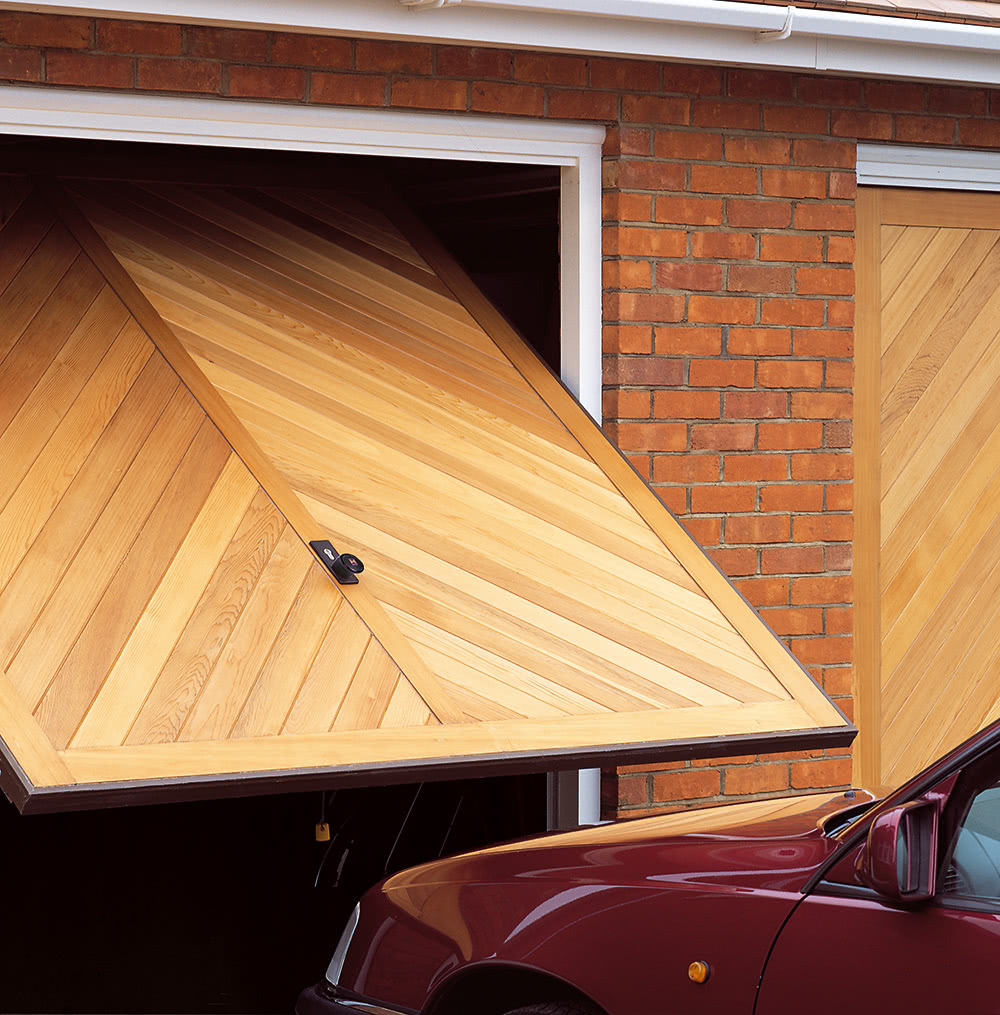 Timber Up-and-Over Garage Doors
Whether you opt for a panelled or tongue and groove design, a classic timber garage door will add warmth and character to either a traditional or modern style home.
Most of our doors are constructed from a specially selected cedar wood that is as naturally durable as it is attractive.
Our timber doors are available in a large range of various wood stain options.
Customise Your Up and Over Garage Door
There are numerous options available for you to choose from when building your brand new up-and-over garage door.
Depending on the door style different glazing options are available - perfect for a garage/workshop as these let in bright, natural light.
Various handles and knobs are available also - in stunning materials such as brass-finished cast aluminium or brushed or polished stainless steel.
Canopy garage doors
A large number of the up and over garage doors in use are commonly canopy garage doors. They are named this as when the garage door is open a third of the door protrudes outside which resembles a canopy.
Canopy garage doors operate on a simple system in which a torsion spring above the door lifts it from either side using a pair of steel cables.
The simple design of a canopy gear system makes it the most cost-effective and efficient garage door style on the market. Canopy garage doors are the most common style of up and over garage door used in the UK. The popularity of this style of garage door is due to their simplicity and the lack of internal tracking which allows people to utilise the roof space in their garage for storage.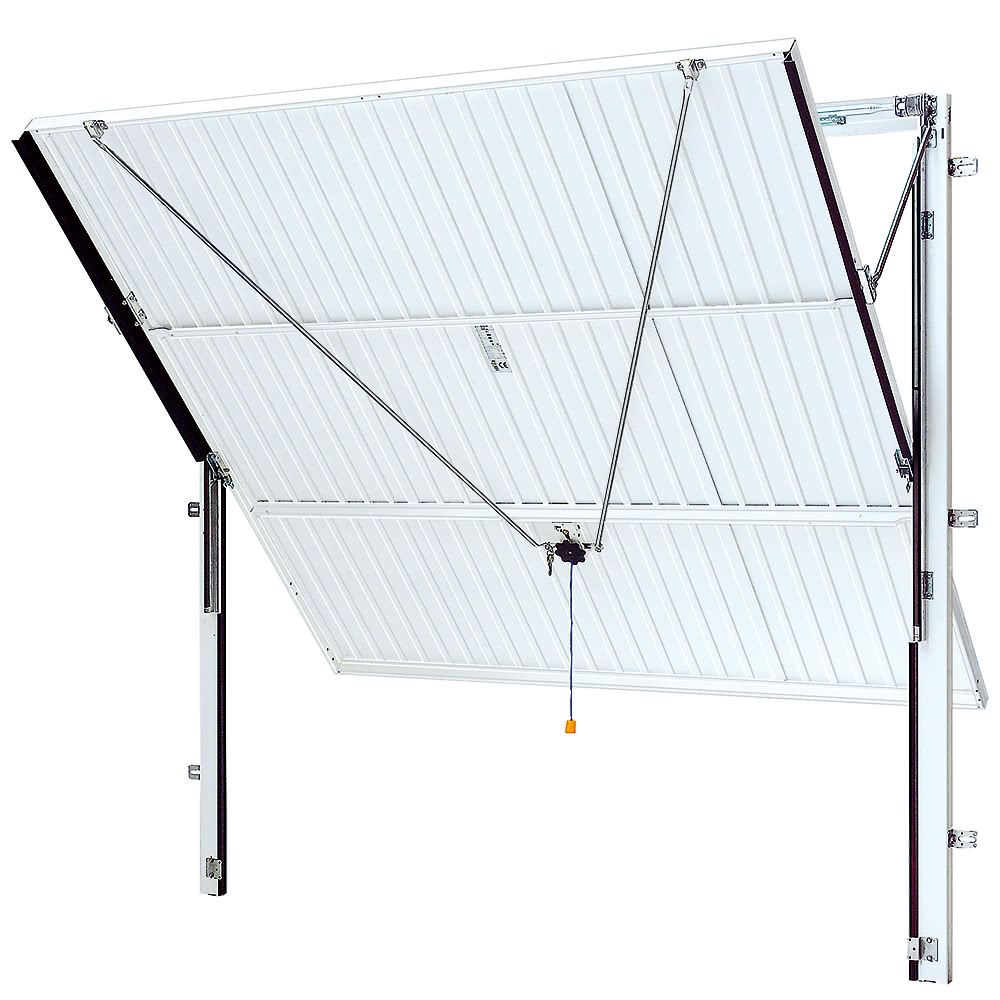 Automatic Up and Over Garage Doors
For added convenience and style our single panel garage doors can be fitted with an electric operator. We have decades of experience fitting operators alongside up-and-over garage doors and this results in simple, smooth, safe and convenient operation.
We offer multiple types of door operators - from a basic model to a 50% faster version with a host of additional features. Both types of operator come with a 5-year warranty for your peace of mind.
There are a huge range of controls available now - internal and external wall-mounted controls, car remotes, fob remotes, code switches, finger-scanners, mobile phone app and more.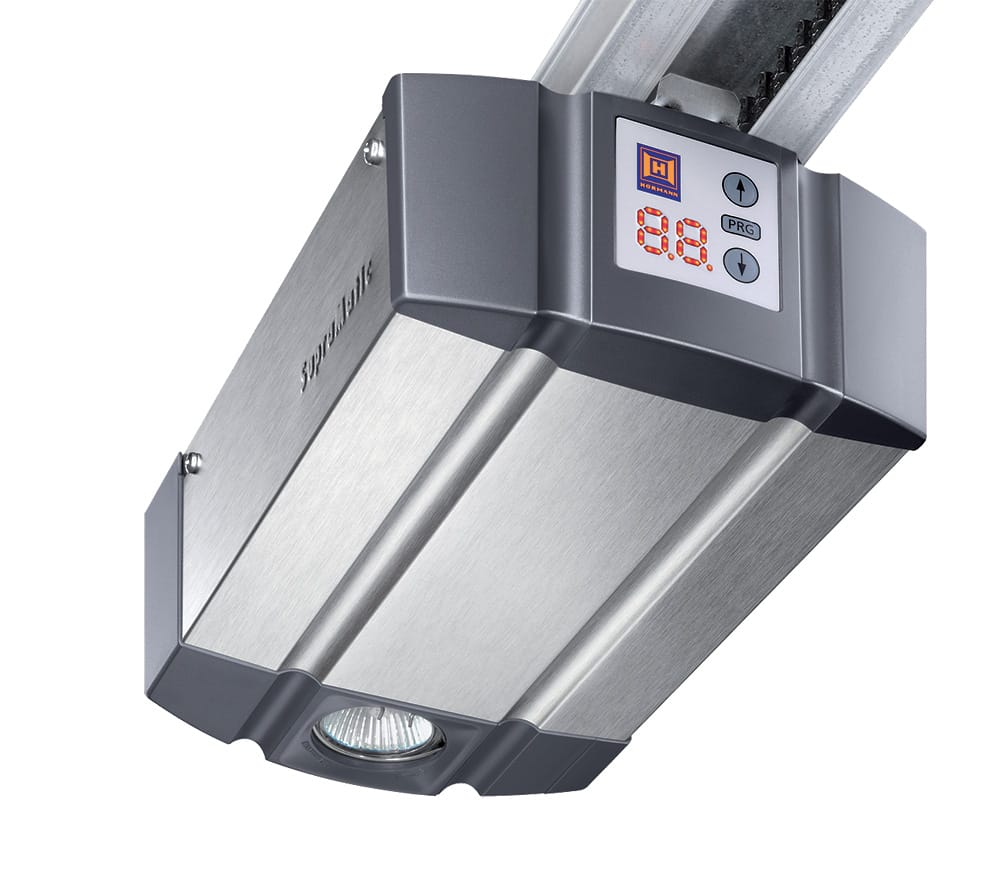 Frequently Asked Questions
What is an up and over garage door?
An up and over garage door is a style of garage door consisting of a single panel that lifts up and tilts over the entrance to the garage, hence the name. Up and over garage doors are extremely popular due to their simplicity, cost-efficiency and their balance of security and ease of use.
Because the actual door in this style is most often a single panel, they can be constructed in a wide range of materials and styles.
Can you convert an up and over garage door to electric?
Up and over garage doors can be fitted with an electric operator, we usually recommend a retractable operating gear as this offers smoother operation when opening and closing.
If you have an existing canopy style garage door we can usually convert it to use remote control automatic opening and closing with a bow arm conversion.
Are up and over garage doors secure?
Bolt locks that have been traditionally fitted on up and over garage doors are not that secure. Fortunately, the manufacturers that we utilise have a range of innovative new secure locking options to ensure the security of your up and over garage door.
Features like rotary catch locking firmly fix the corners of your door leaf to the frame making it nearly impossible to force your garage door open. And if you're especially security conscious you can equip your garage door with optional extra security features such as top locking.
How long does an up and over garage door last?
The lifespan of your garage door will differ depending on how often it is used on a daily basis, its construction and how well maintained it is.
Most garage doors should reliably perform for 10-15 years and with maintenance and regular care can last for up to 30 years.
The more you look after your garage door the longer it will last you without having to replace it. A light coating of WD-40 applied to the springs and rollers of an up and over garage door every 3 months or so will do wonders in keeping your garage door operating smoothly and reliably for many more years.
Prevent rust on metal up and over garage doors by washing away grime and dirt from both sides with a mild detergent and then rinsing with clean water. Wooden garage doors will need to be painted or stained every few years to keep them resilient to the weather.
Do I need to get new tracks with a new garage door?
Usually, when fitting a new garage door we will fit new tracks as well. There are specific tracks designed for each particular model of garage door. If we were to use an existing track that does not match the particular offset the door will not open and close smoothly and effectively.
Not only this but old garage door tracks can be rusty, dirty or warped which will affect the smooth and safe operation of your garage door.
Quick Enquiry Form
Brochure Request
COVID19 Safe Practice
All our garage door installation experts are fully qualified and trained in domestic health and safety. This means you can relax, knowing that the installation of your new garage door will be carried out following strict government and industry guidelines to help prevent the spread of COVID19.
Measures will include:
Wearing facemasks and gloves.
Keeping a safe distance of 2 metres.
The regular use of antibacterial gel.